Welcome to Harper County KSGenWeb
---
Harper County is a beautiful part of Kansas located in the southernmost tier of counties about midway between the east and west borders of the State. The county is 30 miles wide from east to west and approximately 26 3/4 miles from north to south. It covers a total of 801 square miles or about 512,640 acres. The county was not settled until 1877. The city of Harper was founded in 1877, Anthony in 1878, and other towns soon thereafter.
The county seat is located in Anthony. Highway 44 is Main St. running east to west. Highway 179 is Jennings St. and runs south from Main St. to Oklahoma. This is the main intersection in this very active and attractive community.
ATTENTION
Can you help us? Can anyone identify the people in this picture?
Archives
Individuals have typed census pages, bible records, customer lists, tax lists, wills, obituaries, biographical sketches, cemetery lists, civil war rosters, ship passenger lists, and more from their own collections and from documents in public domain.
[Harper County KSGenWeb Archives] [KSHARPER-L Mailing List Archives]
[KSGenWeb Archives] [USGenWeb Archives]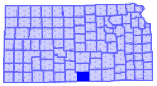 Join the mail list for Harper County, Kansas
Join the Harper County Genealogical Society
---

---

Maintained by Harper County Genealogical Society as part of the KSGenWeb Project.
Material on this page is the property of the Society and all rights are reserved.
Should you find a link that does not work properly please notify Carol Peterson.